The photographies of Syrian norias by Nicolas T. Camoisson are disposed for the first time in Arles, during summer 2019, in the frame of Voies off.
Since Antiquity (Ancient Times / Roman Times selon), Man has exercised his ingenuity to get the water from the river to irrigate crops and provide water to the cities. From the Archimedes's screw to waterwheels, many hydraulic machines can be found along water streams and springs. Hama waterwheels, heirs of those from Apamea two thousand years ago, represent a worldwide unique heritage whith their dimensions and wooden architectures.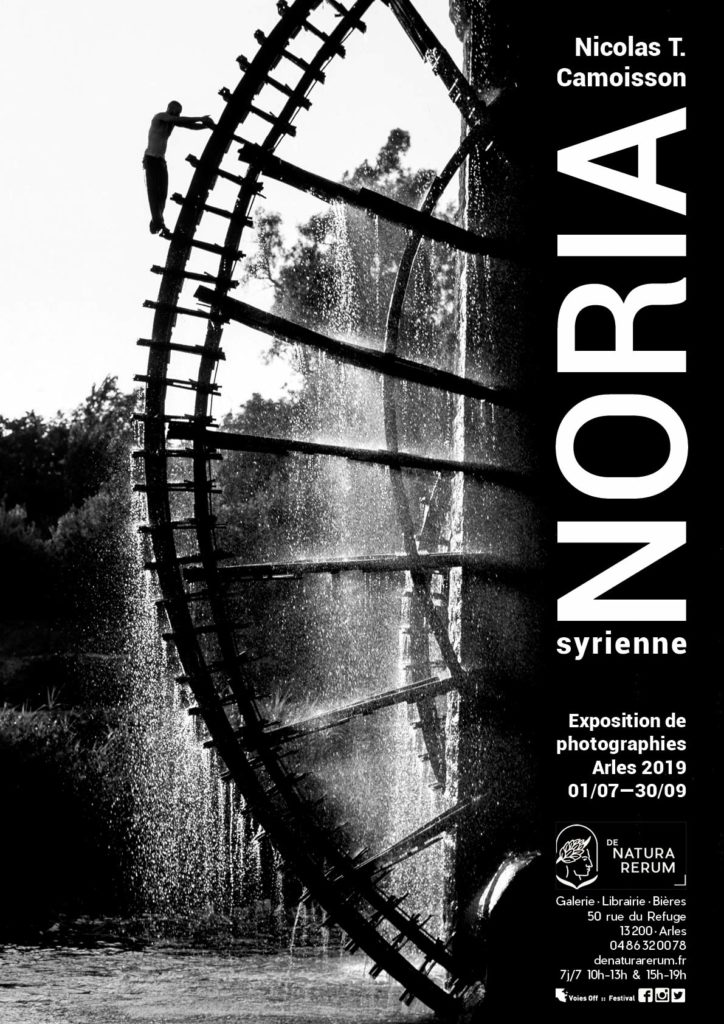 In the valley of Orontes, narrow fertile corridor at the heart of the arid steppe of Syria, the large waterwheels endlessly rotate with the only power of the river, elevate and redistribute water with dazzling water and light effects. A small carpenters guild, holders of an antique know-how, is taking care of the waterwheels.
Shortly before the 2011 revolution in Syria, only 21 waterwheels were working along the Orontes, compared to 140 in the 60's. The disastrous situation in Syria today give little hope to the continuation of this technology which continued through the centuries and could even represent an example for tomorrow's ecology.
Nicolas T. Camoisson is a photographer and a publisher.
De Natura Rerum if a bookshop /gallery dedicated to the Antiquity (and to Provence), as weel as a Provence brewed beers cellar.